Obbola is one of the oldest villages in Umeå Parish. Vasa's land register from 1543 lists four households. Account books from 1559 list the tenants of Obbola island as having two boats and eight herring nets. Giedda's map from 1661 has four farms. In the late 18th century, there were six farmsteads in Obbola.
Obbola has traditionally been split into two areas with different features. Verket has the big factory and Byn has two fishing hamlets and a sailboat harbour.
The 1,381-metre Obbolabron bridge, built in 1989, connects Holmsund, Holmen and Obbola.
Holmen, between Obbola and Holmsund, is home to several sights including the cholera cemetery, shipwreck cemetery, and a outdoor artwork. Obbola also has a history trail with a number of sites worth seeing.
Gamla salteriet
Gamla salteriet (the old salting house) is a fish shop in Byviken fishing harbour, where primarily salmon, whitefish, trout and Baltic herring are caught and processed in various ways. In addition to fresh fish for purchase, numerous products and pickled products are also available.
Visit the newly opened fish museum and read about Obbola's era as a fishing village with a focus on seal hunting. See packing lists and pictures conveying what it was like to live on boats that were out for months at a time.
On the veranda, you can enjoy coffee and a meal.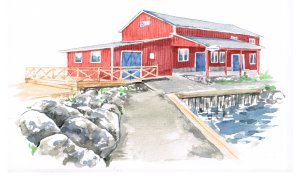 Gamla Salteriet in Obbola village. Illustration: Maria Wall
Multi-arena
SCA Arena is unique. It is a place for a variety of activities, including strength training, trail running, cross-country skiing and boule, but with a primary emphasis on cycling. The arena has tracks for the youngest visitors, one of Sweden's largest dirt parks, brand new cross-country loops, a main field, an area for technique development and boule courts.
SCA Arena is open round the clock and completely free for everyone, but you may also support the project by becoming a member of Obbola IK.
The project has become a reality primarily with funding from the Swedish Inheritance Fund, Umeå Municipality and Idrottslyftet, as well as contributions from the local business community.
Tuvan and Sand
Just north of Rinneln and about 8 km from downtown Umeå is an area by the river called Sand. To the south are Lilltuvan and Stortuvan, both part of the Ume River Delta Nature Reserve.
About 500 years ago, much of Röbäcksslätten, Alvik, Ängsbacka and all the islands in the current river delta were under water. What is now known as Sand first silted up around the 1820s. Maps from the early 20th century show that Sand, Lillsand and Hedmansgrundet had emerged, and Sand was separated from the mainland through a river channel named Mellandjupet/Kodjupet. Read more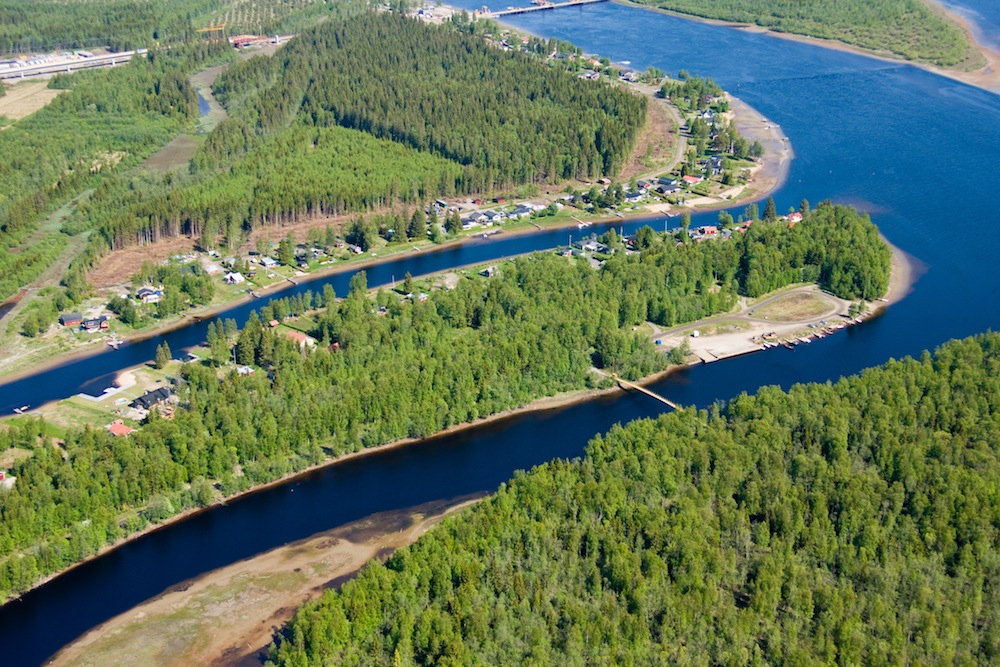 Sand/Tuvan. Foto: Lars Lind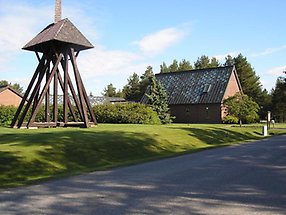 Obbola church. Photo by Lars Beckman
Obbola Church
Obbola Church is part of the Holmsund congregation and is situated between the village and the new industrial part of Obbola community. The church was built in 1969.
It has a rectangular floorplan and is made of brick, with rectangular windows and a steep, copper-covered gable roof. The church is connected to a lower congregation building.
The church was designed by Georg Rudner.
Source: Holmsund congregation
History Path (Fornstigen)
About 2,000 years ago people arrived at Romlet, which was the island of Obbolaön at the time, primarily to fish and seal hunt. They left traces of their presence behind, which are evident now in the form of plots of land and pits in the shingle field. The plots are curved stone embankments around a cleared floor space and comprise the remnants of primitive huts, which were used when seal hunting and fishing from year 1 until the Middle Ages. The plots are located on Stora Romlet and Vitskäret. In about 600 AD, four men were buried in a burial cairn atop an island at the inlet to Västerfjärden. Located near Själafjärden, this island is now known as Rismyrberget.
At this time, Obbola's first residence was built on a peninsula, Väntberget, whose high cliffs created a perfect bay that offered shelter from the ocean.
Further south on the island, along Storhällskärsvägen road, are the sign-posted remnants of a medieval fishing site.
Fornstigen is 4 kilometres long and presents historic landmarks and sites.
Väntberget is the likely location of Obbola's first populated area. In the Late Iron Age, Väntberget was a peninsula in the outer archipelago, with a well-sheltered bay. There was probably a burial site across the bay on Stora Ramlet, and in 1965, a grave with two young girls was discovered. The grave also contained what is known as Obbolafyndet, the Obbola Discovery: two round bronze buckles. Fornstigen passes this grave.
The name Väntberget ("Waiting Mountain") is said to come from the women in the early 20th century, who would wait atop this peak in anticipation of the first signs on the horizon of the men returning on sailboats and fishing boats, between the islands of Bredskär and Klubbarna.
The Old Harbour (Gamla Hamnen)
In the late Middle Ages, the large meadow in the village was an open, shallow bay with a flat, sandy bottom. Around 1000 AD, it was probably a popular harbour for locals. The point on which the village was located was protected from the open waters of Österfjärden and Västerfjärden, and could be reached by sailing inside the skerries. Today, visitors can see one of Obbolaön's remaining historic farm areas.
Iron Age graves on Rismyrberget
In the Late Iron Age (500–1000 AD), Obbola was part of a larger society. Along the coast, navigation was long-range but followed the shoreline. This ancient route probably stopped along trading sites at the mouth of the Ume River through Västerfjärden and Själafjärden.
At that time, Rismyrberget was an island at the western inlet of the sound. In the 7th century, four people were buried here in burial cairns. During excavations, harnesses were discovered inside the grave; one of the harnesses was gilded with bronze fittings at the ends of the strap. These discoveries are on display at the Västerbotten Museum in Umeå.