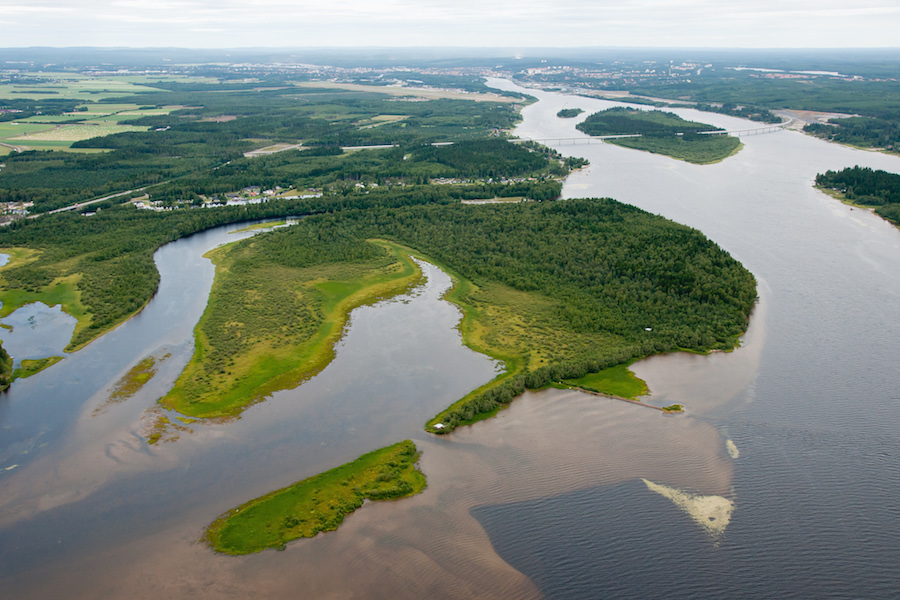 Just north of Rinneln and about 8 km from downtown Umeå is an area by the river called Sand. To the south are Lilltuvan and Stortuvan, both part of the Ume River Delta Nature Reserve.
About 500 years ago, much of Röbäcksslätten, Alvik, Ängsbacka and all the islands in the current river delta were under water. What is now known as Sand first silted up around the 1820s. Maps from the early 20th century show that Sand, Lillsand and Hedmansgrundet had emerged, and Sand was separated from the mainland through a river channel named Mellandjupet/Kodjupet.
To maintain the route to Umeå, the channel was dug out between Tuvan and Flisbergsgrundet in 1889. Sand was joined to the mainland when Mellandjupet/Kodjupet became shallower through land uplift and sedimentation. When the road was built, road waste was added that broke off the water flow.
In conjunction with log driving in the Ume River from Baggböle sawmill to Holmsund, a stretch of about 20 kilometres, there was a stoppage at Sand. A stone caisson was built for this.
Summer cottages began appearing in the Sand area, which is part of the Degernäs Property Association, in the 1920s. The cottages have since become year-round homes. A large area west of Sandvägen road is part of the Ume River Delta nature reserve. At the lowest point after Sandvägen road, there is a footbridge to Mittituvan which is used to reach Obbolavägen road. It also connects to the nature reserve's nature trail, which begins at Mittituvan.
Party sites on Sand have been popular destinations for residents since the 1920s. Anyone who wanted to could take a spin on the dance floor. Carnival grounds offered everything from a spinning chocolate wheel to target shooting and game machines. You could buy coffee, soda, sausages and more.
The party site is now run by the Sand Cottage and Road Association. The dance floor is Umeå's oldest preserved dance floor.
The cottage association has thrown an annual summer party and held boule contests since the late 1970s.
To reach Sand from Obbolavägen road and the first stop is a marina; then follow Sandvägen road south.
Read more about the Ume River delta
Read more about the Tuvan Nature Reserve and the Ume River delta on the County Administrative Board's website