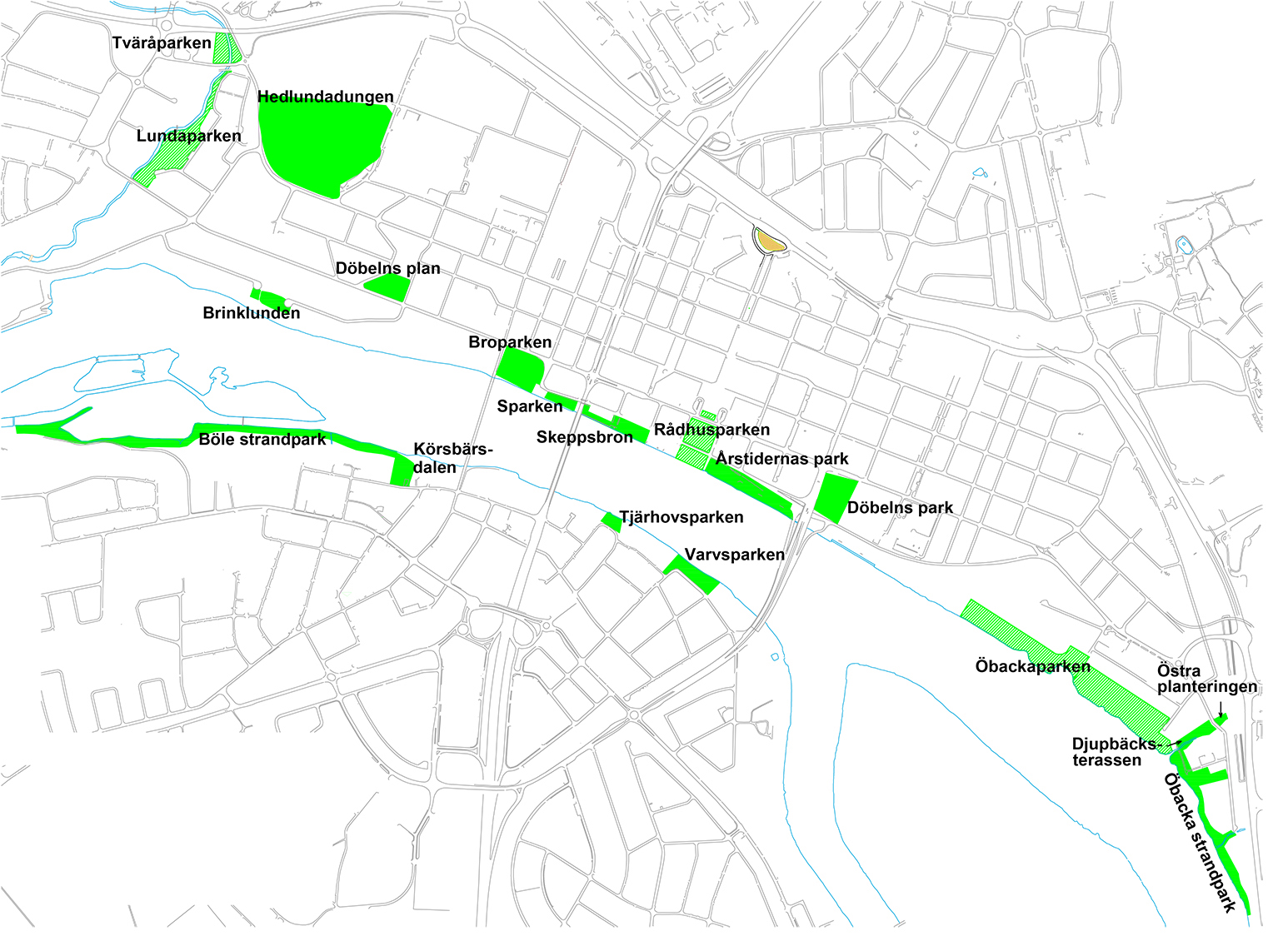 In recent years Umeå Municipality has made large investments aimed at turning the city towards the river, including the restoration and development of several parks close to the water.
The municipality is taking part in the 2018 campaign Buzzing parks and gardens run by the Swedish Society of Public Parks and Gardens, in collaboration with Swedish Bees, with the aim of help bees and spreading awareness.
A brochure is published annually by the municipality for anyone who wishes to experience the city in full bloom. The brochure can be viewed here (Swedish).
More references: https://issuu.com/naturskolan/docs/uppt_ck_stadens_natur_issuu_7_aug
Ume Älvdal
2019-03-11T10:40:25+02:00
The park area nearest the Böle channel between Körsbärsdalen and the western footbridge to the Bölesholmarna islands is called Böle Strandpark (beach park).
Ume Älvdal
2019-03-12T15:40:23+02:00
The moss garden (Mossträdgården) was created in conjunction with the Bloom 2014 flower festival. Led by Japanese moss garden master Taka Yuhi, park workers from Umeå Municipality and 10 Japanese garden designers built
Ume Älvdal
2019-02-28T09:51:49+02:00
Thematically, Cherry Valley (Körsbärsdalen) was based on the idea to create a park filled with fruit and blossoming trees, bushes, perennials and bulbs. Different varieties of cherry, bird cherry, apple trees, ornamental malus,
Ume Älvdal
2019-03-29T09:50:47+02:00
Speed and precision are in full display at Umeå's skate and parkour parks. If you're looking for exciting action right in the city centre, look no further than the skate and parkour parks located side-by-side between the bridges in the centre. Here you can try out the basics for the first time, or do a hard-core session as an experienced practicer.
Ume Älvdal
2018-11-12T22:11:56+02:00
Skeppsbron, below Tullkammaren and the cultural centre Väven, is yet another locale where residents can enjoy attractive views of the river. Visitors are attracted to Skeppsbron all year round due to its proximity to shopping areas. Restaurant boats can be found by the docks.
Ume Älvdal
2018-11-12T21:56:29+02:00
The park's design is by landscape architect Eva Henriksson of WSP Group and is an extension of the riverside footpath and the park below Östra Station, Djupbäcksterrassen.
Ume Älvdal
2018-11-12T21:43:34+02:00
This outdoor gym lies in the park by Varvsgatan along riverside footpath. It has a three-in-one gym machine where you can exercise your whole body. The outdoor gym has a fine view over the city and is located close to a boule park.
Ume Älvdal
2019-03-29T10:45:38+02:00
Arboretum Norr is a forest garden where plants and trees from areas with the same provenience all over the world have been planted since 1981. The Arboretum covers 15 hectares of land and includes more than 1400 exotic woody plants of roughly 250 different species or varieties. Information boards are located throughout the area providing comprehensive information about the different species.