Umedalen Sculpture Park
The park is home to sculptures by leading Swedish and international artists. It is always worth a visit to see the permanent collection, which currently consists of about 40 sculptures. It is open to the general public and can be visited year-round, all day long, free of cost.
Read more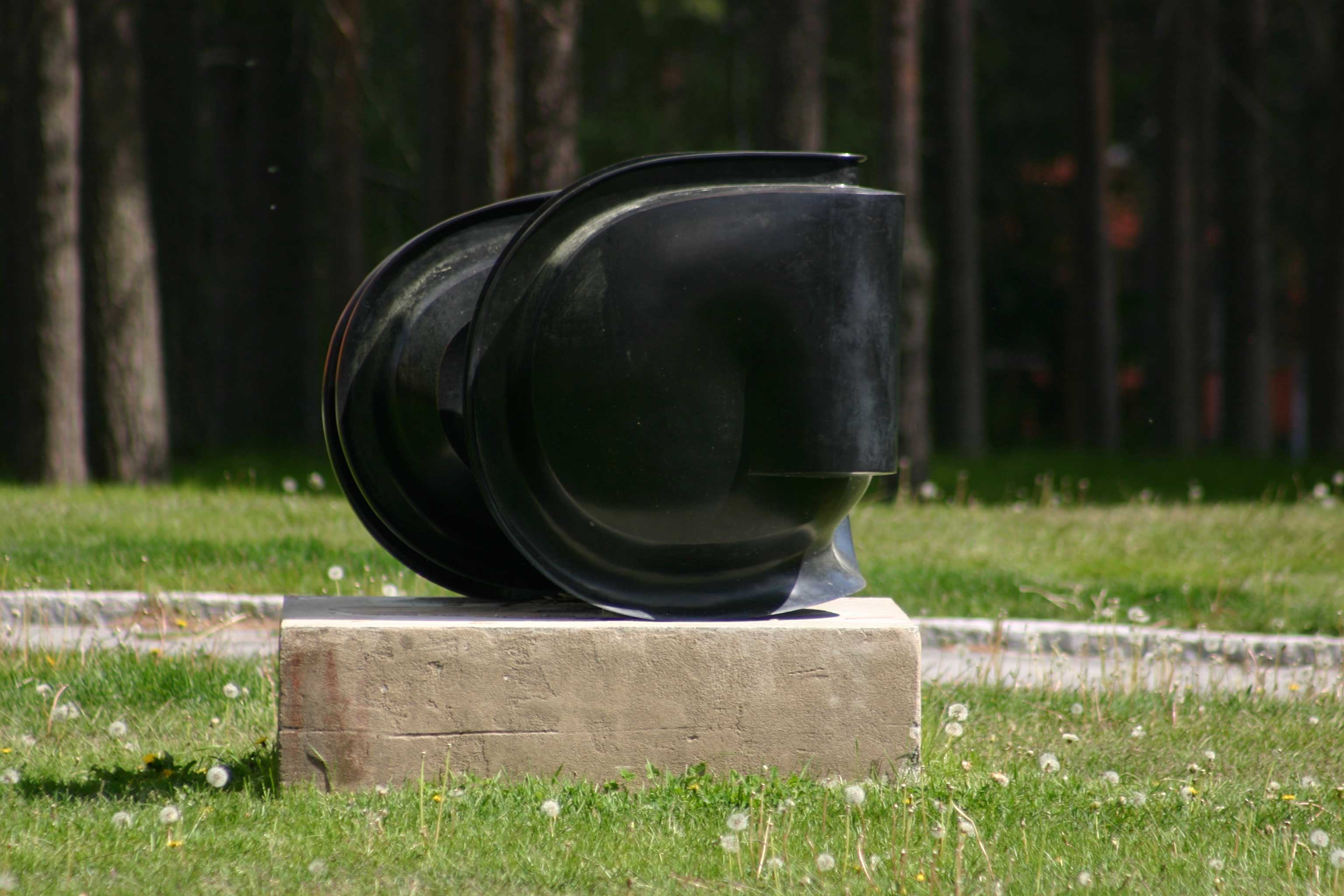 Stevenson, 1999
Tony Cragg (1949– )
UMEDALSPARKEN
Owner: Balticgruppen
View the left part as a cup, an amphora, and fill it with water which you then pour out. The movements of the container and water generate a drawn-out dripping shape that ends in the same vertical container. Thus the artist has presented a movement, a process or train of thought, made visible in a black, billowing bronze sculpture entitled Stevenson. The title refers to the first locomotive that was developed by Mr. Stevenson. The sculpture is also reminiscent of the movements of wheels and pistons on a locomotive.
Sculptures typically have one or two focal points. But we can move and walk around the sculptures, and read them from different angles. In Stevenson, which is part of a series called Early Forms, the artist has done the opposite. Here, it is the sculpture that moves. It twists around its axis and presents a course of events. This method is related to the Cubist approach, in which art included a dimension of time by painting still lifes from different directions simultaneously.
Artist Tony Cragg is from Liverpool and his work can be viewed as a continuation of 20th-century British artists Henry Moore and Barbara Hepworth's interest in form.
His portfolio is extensive, and he has obtained the top distinctions a sculptor can receive and has also been appointed professor and a member of different academies. Since the late 1970s Cragg has been active in Wuppertal, Germany, where his sculptures are made with the help of craftspeople and assistants, purchased for collections and featured in public spaces worldwide. (IT)
Height approx. 0.9 m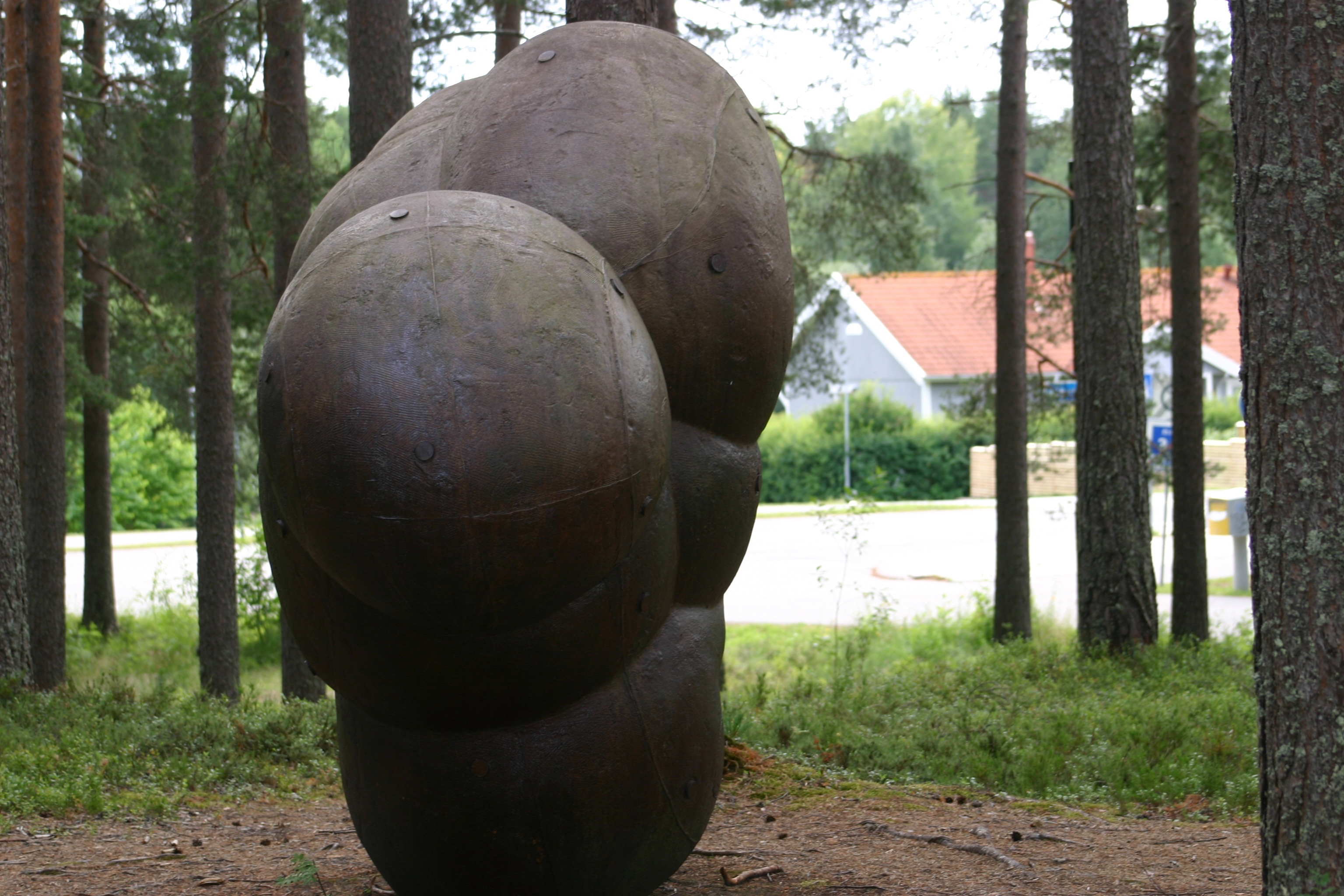 Still Running, 1986
Antony Gormley (1950– )
UMEDALSPARKEN
Owner: Balticgruppen
Antony Gormley often uses his own body as a basis for his sculptures. In Still Running we think of him as running within the sculpture. The outlines of his body emerge like the rings of a tree. The final result is a nearly three-metre tall, ample, mushroom-like shape in cast iron that is well balanced and meets the ground with a minimal surface.
When viewing the sculpture up close, the welding joints and round shapes appear, traces of the production process and a part of the artistic expression.
British artist Antony Gormley is one of today's most beloved sculptors and he received the prestigious Turner Prize in 1994. He is represented in all major modern museums worldwide, and another piece by him can be found in Umeå, Rhizome II, in the roundabout by Strömpilen (IT).
Height approx. 2.7 m
Kastenhaus 1164.14, 2000
Wolfgang Winter (1960– ) and
Berthold Hörbelt (1958– )
UMEDALSPARKEN
Owner: Balticgruppen
Winter & Hörbelt, the German artist duo that have collaborated since the early 1990s, are known internationally for the pavilions they have built in Japan, Germany, England and the US.
Their artistic materials are plastic crates for beer, water or milk bottles; these mundane factory-produced materials come in shades of brown or mint green, but can also serve as building blocks for "crate houses". While the pavilions are aesthetic spaces, they can also serve as functional spaces in cities, for example as a bus stop, information kiosk and so on.
During the daytime, Kastenhaus 1164.14 is filled with light that filters in through the openings, creating an almost sacred space, reminiscent of the interior of a Gothic cathedral. In darkness, the room sculpture is transformed into a snowball lantern as light streams out through the openings. Thus, using light and recycled materials, the artists have created a sculpturally designed piece of architecture that is both an object to behold and a space for visitors to experience. It consists of 1,164 crates and is the 14th joint project. (IT)
Height approx. 5.5 m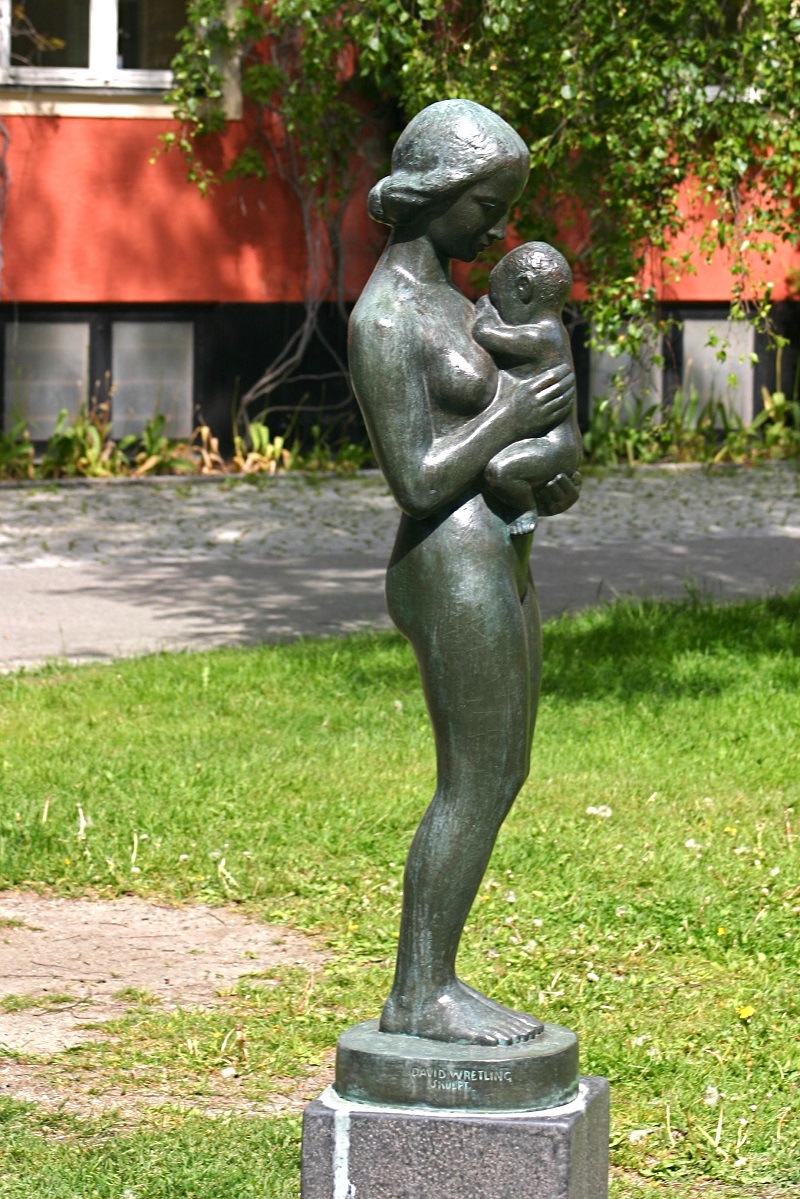 Mother and Child, 1958
David Wretling (1901–1986)
UMEDALSPARKEN
Owner: Balticgruppen
Already in the late 1950s, Mother and Child was located by what was then the administration building of the Umedalen Hospital. Originally shaped in clay by David Wretling, the statue is cast in bronze and about one metre tall; it stands on a stone pedestal.
The young mother looks tenderly upon her sleeping or crying child, who holds its hands to its eyes. Their bodies are naturalistically shaped and appear to be alive, despite being made of bronze and in a small format.
The sculpture is designed according to the classic ideals of antiquity, which had a renaissance in the 1920s and became the dominant style of public art until the mid-1960s. (IT)
Height approx. 1.6 m
Eye Benches II, 1996-97
Louise Bourgeois (1911–2010)
UMEDALSPARKEN
Owner: Balticgruppen
Vision itself plays the main role in Louise Bourgeois' piece Eye Benches II, their fronts showing a pair of eyes and their backs are shaped like seats. The large format and absence of faces contributes to the eyes being perceived from a distance as something else, but up close, the details are clear. The pupils are shaped like globes and enclosed by both an iris and eye whites.
The human body, and her own life, are the major themes of Louise Bourgeois' artwork. Childhood and the experiences harvested by the eyes have always been important starting points for her artwork. She considers eyes to be our most important tools; they reflect the soul and unlike hands and words, they cannot lie. Sadness, joy, anger, friendliness, pain and trust are seen in our eyes.
Different versions of her "eye benches" are found, among other places, in Seattle and Pittsburgh. Here on the grass, below the garden in Umedalsparken, is one version. It gazes up towards IKSU Spa, and with the back shaped like seats, we can sit down and look both forwards and backwards in interplay with the sculpture.
Louise Bourgeois is one of this century's most acclaimed artists. Originally from France, she was born in 1911 and raised in Paris. In 1938, she moved to New York and had her major international breakthrough in 1982, when she was the first woman ever to have a retrospective show at the Museum of Modern Art (MoMA) in New York. In 1993, she was the US representative at the Venice Biennale (IT).